Post by 00hmh on May 28, 2020 10:10:49 GMT -6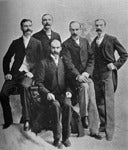 No taxpayer money in the athletic budget. It is student fee financed, though.

They could still charge student fees, but in fact substantially cut the fees, brag about it, and fund the other sports better...and the debate team or whatever. The amount of student fees going to FB is pretty big.

cafidatabase.knightcommission.org/fbs/mac/ball-state-university#
!quicktabs-tab-where_the_money-1
$7.46mm in "Institutional/Government Support", which is coming from the general fund which absolutely has taxpayer money in it.
Indiana law prohibits a budget allocation for athletics.

However. There definitely is a some funny money in the budget that benefits athletics. Whether money can be shifted to use that benefits athletic programs is a matter of whether it "counts" in the athletic department budget.

Click on the footnote in the table referenced and you see a "shifty" definition of "institutional support." In Indiana the money isn't in the athletic budget.


For example, Worthen Arena was built as a multi purpose facility with instructional uses, housing academic programs and classrooms including uses for physical education, sports administration, and the sports administration and athletic training programs. Maintenance and grounds money supports upkeep of some areas used for multiple purpose such as parking and recreation. Some administrative expenses are shifted to the University budget.

If you look at the expense side of the ledger you see several accounts mentioned representing money spent, that are counted by the Knight Foundation as athletic spending, but is not in the University budget as an athletic expense.

The point here is that dropping football or dropping sports completely would theoretically not change the state budget allocation. Maybe it is just semantics, but the money could still go to athletic departments from the state. Where they would lose revenue would be from donors, or revenues related to FB operation, but that is exceeded by expenses generated from operations....