Post by cbcjanney on Jul 18, 2017 10:16:39 GMT -6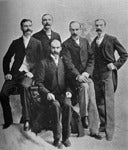 Players would know the guys are under performing. This would not hide bad judgment very well. Who is he fooling? How does he gain anything by this strategy?
Let me suggest an alternative explanation. If a coach backs his judgement up by playing the guys he gave the scholarship to, that would have the same visible result. Much different motive. I respect a coach who says this is a guy who can play and gives him the chance to prove it. And then there is just simple error in judgement. He was wrong but stuck to his guns.
Players would understand either. But. If the coach continues to "go with his judgment" made before the year started, and after the proof is in that he is mistaken, why not reallocate PT right away, and the next year reallocate scholarship money? Why would he not want to do that at some point, even if bullheaded and in error. How does he gain by what is suggested here?
He alienates players and isn't fooling anybody, AND he is judged by the AD on results. Assume he fooled the AD with this lame theory that his PT allocation was the best possible because it matches his preconceived scholarship split? Claiming he played the right players is going to get him fired if he doesn't win games.
If this is an elaborate fraud it appears to me to be bonehead error. Don't see how it works. Help me understand how the coach can fool everyone like you say.
It's a complex argument no doubt with a number of factors. Players through time in the cage and practice do develop a good sense of who is performing and who is not, as you say. While I'm not familiar with the inner workings of BSU's team this year, Northsider I believe is saying the BSU players did have that sense this year and disagreed with Maloney. Rich's decisions could've been scholarship-related or just difference of opinion on who was the better performer, we can't truly know as outsiders. College coaches in general aren't bothered pride-wise by the overachieving walk-on nearly as much as the guy getting $$ who doesn't pan out. Pulling, or more often, reducing the latter's money is a tough sell if you want to hang onto him at all and still maintain a working chemistry. Thus the bigger $$ guys will always get a more thorough chance -it's just when do you concede bullheadedness, admit mis-judgment, and make changes. And I'm sure Maloney isn't broadcasting the $$ status of each player - the players might speculate or admit amongst themselves what they're getting.
Two things with baseball stats that I think are a bit different than stats in other sports - 1) they're more manipulatable by coaches if they so choose...for example 0 for 4 from the FT line in basketball is largely the same no matter how you cut it. However going 0-4 via pinch-hitting late game 4 times vs opponents' closers after sitting cold for 2 hours is vastly different than going 0-4 in the same game against the same pitcher who may happen to be Butler's #6 guy. Similarly a slower guy can have a better stolen base % if the coach only sends him vs easier catchers and a truly better baserunner can appear worse if coach challenges him by sending him against the toughest catchers..... and 2) there's enough wiggle room with things like dink/bloop hits vs line drives right at people, one guy gets rbi's because he's always batting w/runners in scoring position vs one guy is always batting w/bases empty, etc. that it's often a reasonable argument to rationalize away stats entirely and just go with "feel".
With the scholarship thing, typically the guys with the most money will get the first chance to perform (understandable) but also the longest leash if things don't pan out which is where it gets dicey. The walk-on might get one game/chance to start against Oregon State's ace while the guy on 1/2 scholarship may get 2 weeks to be judged even after he's underperformed for 2 weeks. And without a doubt it can be tough to judge - the difference between a .250 hitter and a .300 hitter is only one extra hit every 20 at-bats, and in the field can be even tougher as one guy might get a bunch of 50/50 plays and chances to impress, while another gets just routine plays, or no action at all.
As far as you mention reporting to the AD, like I said above, everybody loses a lot of games in baseball and you're rarely judged on a certain loss or in many cases # of losses. Partly because you play so many more games, but largely the winning %'s just aren't as high due to the fact that (with the nature pitching/pitchers) you're not putting the same team on the field every night. We'd like to see BSU Basketball at maybe 23-8 (.742) or BSU Football at 9-4 after a bowl victory (.692) but those would be really hard-to-reach mid-major baseball winning %'s - look at MLB current W-L %'s and/or the fact you really have to dig to find the W-L records of the NCAA Tourney teams (they're just not considered that important). The 2 teams in the finals Florida & LSU had 16 and 17 losses respectively entering the tourney (as #1 seeds) and of course lost some games during the tourney. Again though, a lot of wiggle room to judge a coach's performance. He can say "All my best players/recruits keep getting drafted before they play 4 years" (a valid argument). He can say "we beat Maryland, Boston Coll, Purdue, Ohio State - what other BSU team had 4 Power Five conference wins?", we took IU to extra innings", "we had a decent record save that 8-day slump back when". He can also say "we lost that [any particular] game because no balls were hit to our stud 3B or left-fielder and everything was hit to our weak link. (another valid baseball nuance) While football/basketball coaches can give 35 carries to their best running back or run the offense through their top 3-point shooter, a baseball coach can't get any best batter up more than once every 9 hitters, every batter bats the same # of times, and you can't direct where the opponent's ball will be hit.
All in all, I don't think Maloney tried to lose games. He may have stuck with underperforming scholarship holders too long and it may have cost him some wins. He'd say in the grand scheme of baseball those wins aren't judged as all that important. It's not like he's alienating large swaths of season ticket holders, losing big revenue streams, or forgoing NCAA at-large status if he's 33-25 instead of 30-28. Conversely, he may very well say in the grand scheme his reputation to recruit is impacted by his ability to judge prospective talent so if it becomes an every-year occurrence that he's playing walk-ons while high-scholarship guys sit the bench that he could lose that reputation and thus be perceived skeptically by recruits.